The weather was gorgeous out at Cypress Ridge Golf Course on October 5, 2019. Teams traveled from California and Arizona to support ALS patient care and research. Together we raised $114,680.00!! The VIP guests at the tournament were: Fred Fisher (President and CEO of The ALSA Golden West Chapter), Cherryl Goldstein (VP of Development for the ALSA Golden West Chapter), and Dr. Justin Ichida (USC Professor of Stem Cell Biology and Regenerative Medicine).
Results:
1st Place: Manny Silva, Brian Ball, Jon Pollock, Paul D'Ambra; Score: 55
2nd Place: Jim Orradre, Stephen Orradre, Duke Green, Bob Riddle; Score:
56
3rd Place: Nigel Whitehead, Josh Compton, Bill Compton, Will Sinclair; Score: 
57
Hackers: Jerry Casey, Jennifer Taylor, Kyle Hooks, Kevin Voorhees; Score: 80
Closest to the pin (women): Karen Crawfis – 18ft
Closest to the pin (men): John Ronca – 9ft
Longest drive (women): Terri Garcia
Longest drive (men): Cliff Contreras
Awards Ceremony Speakers
We were honored to have Fred Fisher (left) discuss the impact of the MOFF Fund on patient care services on the Central Coast of CA.
Dr. Justin Ichida (right) discussed the ALS stem cell work his lab at the USC Keck School of Medicine has been conducting. The Ichida lab was the recipient of the ALS Research Grant Sponsorship ($10,000.00). The ALS Research Grant Donor was the Larry Fernandez Family. Read more about this transaction here.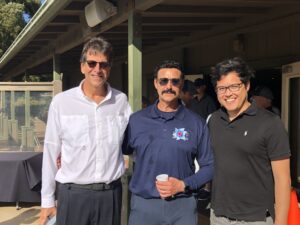 Thank You Volunteers! Your positive energy and helpfulness made this event possible.
Click here to view the MOFF Golf Tournament top sponsors!