The Martha Olson-Fernandez Foundation Fund Established with The ALS Association Golden West Chapter
In November 2014, The Martha Olson-Fernandez Foundation established The Martha Olson-Fernandez Foundation Fund at The ALS Association Golden West Chapter.
The money within The Martha Olson-Fernandez Foundation Fund is earmarked to assist people living with ALS on the Central Coast of California. This territory includes people living in Santa Barbara, San Luis Obispo, Monterey, Santa Cruz, and San Benito counties. Golden West Chapter Care Managers ensure that The Martha Olson-Fernandez Foundation Fund assists people with ALS and their families who need it most. Read the impact statements below to learn more.
The Golden West Chapter's mission is to discover treatments and cures for amyotrophic lateral sclerosis (ALS), and to serve, advocate for, and empower people affected by ALS to live their lives to the fullest. The Chapter's vision is to create a world without ALS.
Below is a chart of the historical grant distributions to the ALS Association Golden West Chapter
| Year | Amount |
| --- | --- |
| 2014 | $10,000 |
| 2015 | $20,000 |
| 2016 | $28,000 |
| 2017 | $25,000 |
| 2018 | $25,000 |
| 2019 | $25,000 |
| 2020 | $30,000 (increased due to COVID-19 demand on patient care services) |
| 2021 | $20,000 |
Patient Stories
Narratives have been de-identified to protect the privacy of those who have received our financial support.
MOFF financial support was used to purchase equipment for a client who was already having significant mobility issues when he was diagnosed with ALS, due to being misdiagnosed previously. Funds were utilized in this instance because this client was unable to safely move about his apartment without assistive devices. The lack of access to this equipment left him unable to manage many activities of daily living and work functions.
Funds were used to purchase a front wheeled walker, a urinal, a bath chair, and a bed rail which enabled him to walk short distances within the apartment, take showers, get in and out of bed, and remain independent with toileting. This client was also having difficulty with computer access due to arm weakness; arm troughs were purchased so he could access the computer more easily. A wheelchair and cushion were also purchased so that this client could be more easily and safely transported to clinic appointments for medical care.
MOFF funds were used to purchase equipment for a client who was homeless when first diagnosed. This client was connected with an organization that provided him with shelter in a local hotel. His hotel room required modifications so that he could live there independently.
MOFF funds were also used to purchase a commode and transfer pole which were set up in his hotel room so that he could be independent and safe with toileting in spite of weakness affecting his arms and legs.
MOFF financial support paid for crucial equipment for a client diagnosed with rapidly progressive respiratory onset ALS who lacked the resources to make purchases himself. The Chapter bought an alternating pressure pad for a hospital bed, a transport wheelchair and cushion, and a voice amplifier after his HMO insurance refused to pay for the required equipment. The equipment helped prevent pressure sores and enabled him to conserve his energy while maintaining mobility. Because of his quickly deteriorating health, securing items quickly allowed the client to spend quality time with his family, rather than battling the insurance company for the items he needed. As noted by his family, most importantly, the voice amplifier allowed him to continue to communicate during his final days with his family and friends when his voice volume was down to a whisper due to respiratory weakness.
MOFF funding was used to help a client from the Bay Area obtain equipment so that she could relocate to San Luis Obispo. This client lacked income or insurance coverage to purchase essential equipment required to turn her daughter's home into a livable environment including a commode, shower chair, and alternating pressure pad. The Chapter also used funds to pay for the delivery of a loaned power chair and hospital bed that was set up at home in advance of the client's move. The client's transition to her daughter's home went very smoothly because all the equipment she needed was in place when she arrived.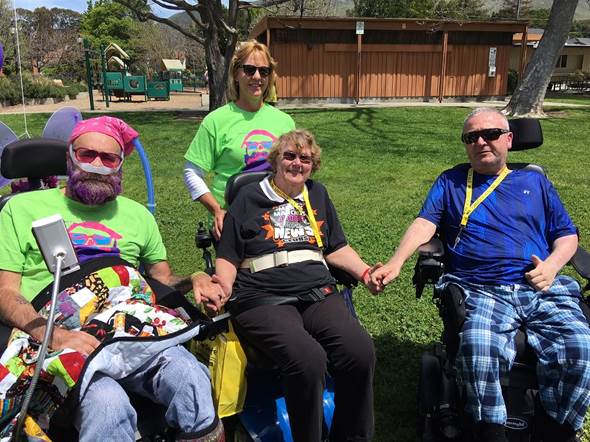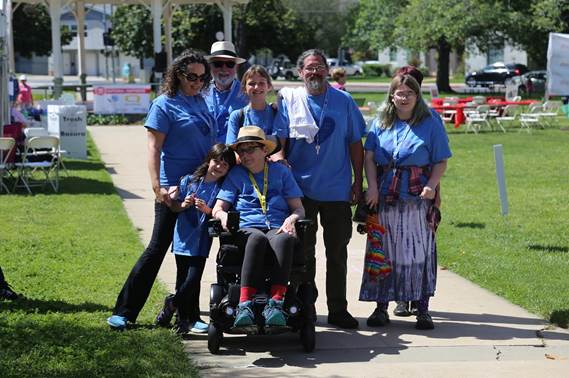 Impact Statements
"Thanks to the Martha Olson-Fernandez Foundation, the people I work with on the Central Coast who are living with ALS have immediate access to adaptive devices that are not covered by insurance. These devices enable people to maintain their independence with things such as eating, bathing, dressing, and mobility as long as possible, which has a powerful impact on their quality of life."  
                                                      -Julie Scurich (Care Manager at ALSA GW) 
    "Funding from the Martha Olson-Fernandez Foundation has made it possible for the Golden West Chapter to purchase items that are vital for clients, caregivers, and loved ones related to safety, mobility, nutrition, hygiene, comfort, communication and peace of mind. Using Martha Olson-Fernandez Foundation funds, the Chapter has provided voice amplifiers and microphones, switches, alarms and call chimes, walkers, transport wheelchairs with cushions, swivel slider transfer benches, adaptive eating utensils, portable suction units, replacement batteries for various devices, pressure pads and much more to our clients. In 2020, many known challenges of living with ALS were exacerbated due to the COVID-19 pandemic. As a result, Martha Olson-Fernandez Foundation grant funding supported many grateful families facing ALS who experienced a sharp decrease in income or employment, those who tested positive for COVID-19, and those who had children at home engaged in remote learning."
              -Cherryl Goldstein (VP of Development at ALSA GW)