Thank you to the 10th Annual GT Participants!
***The event fundraised over $101,000.00! Special thanks to the Top Sponsors the SLO High Band for their incredible skill at the Heckle Hole! 
Golfer FAQs
Registration opens 8:30 AM

Shotgun start at 10:00 AM

Breakfast burritos and lunches WILL BE provided

Live performances by The SLO High Band

Special Guest: Artist Legacy Standard

Opening remarks by the President of the ALS Association Golden West Chapter, Fred Fisher 
Where: Cypress Ridge Golf Course
Click here to explore ways to golf, sponsor, and donate to the silent auction.
If you are volunteering and have questions, please email:  cure_als@moffoundation.com .
This year marks the 10th Anniversary of the MOFF Golf to Find a cure for ALS event. We will be celebrating with a Hawaiian theme. Let's get tropical and raise money to find a cure for ALS!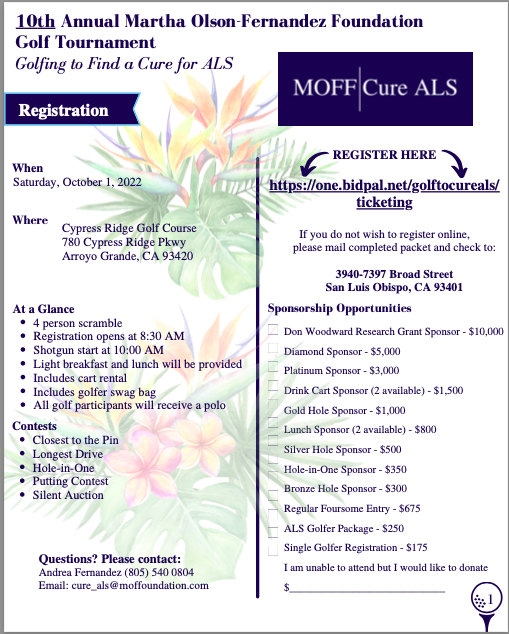 (Click image above for more tournament info)
Event Website