The MOFF Philanthropic Investment Portfolio Contains Four Categories of Preclinical ALS Research Projects:
Biomarker Studies, Animal Model Development, Disease Mechanism Understanding, and Potential Therapies.
Thank you to our donors for making this possible.
Initial Donation to the Forbes Norris MDA/ALS Research and Treatment Center
---
The first $100,000.00 the Martha Olson-Fernandez Foundation raised was donated to The Forbes Norris MDA/ALS Center in San Francisco on September 2, 2014 in fulfillment of Martha's wish to fund research ALS until a cure is found. Martha participated in clinical trials for NP001 at the center from 2011-2012. The Forbes Norris Center is an example of an interdisciplinary ALS center which is key to ALS patient comfort. There are now multiple interdisciplinary centers in CA that help patients get all the information and medical attention they need in one location.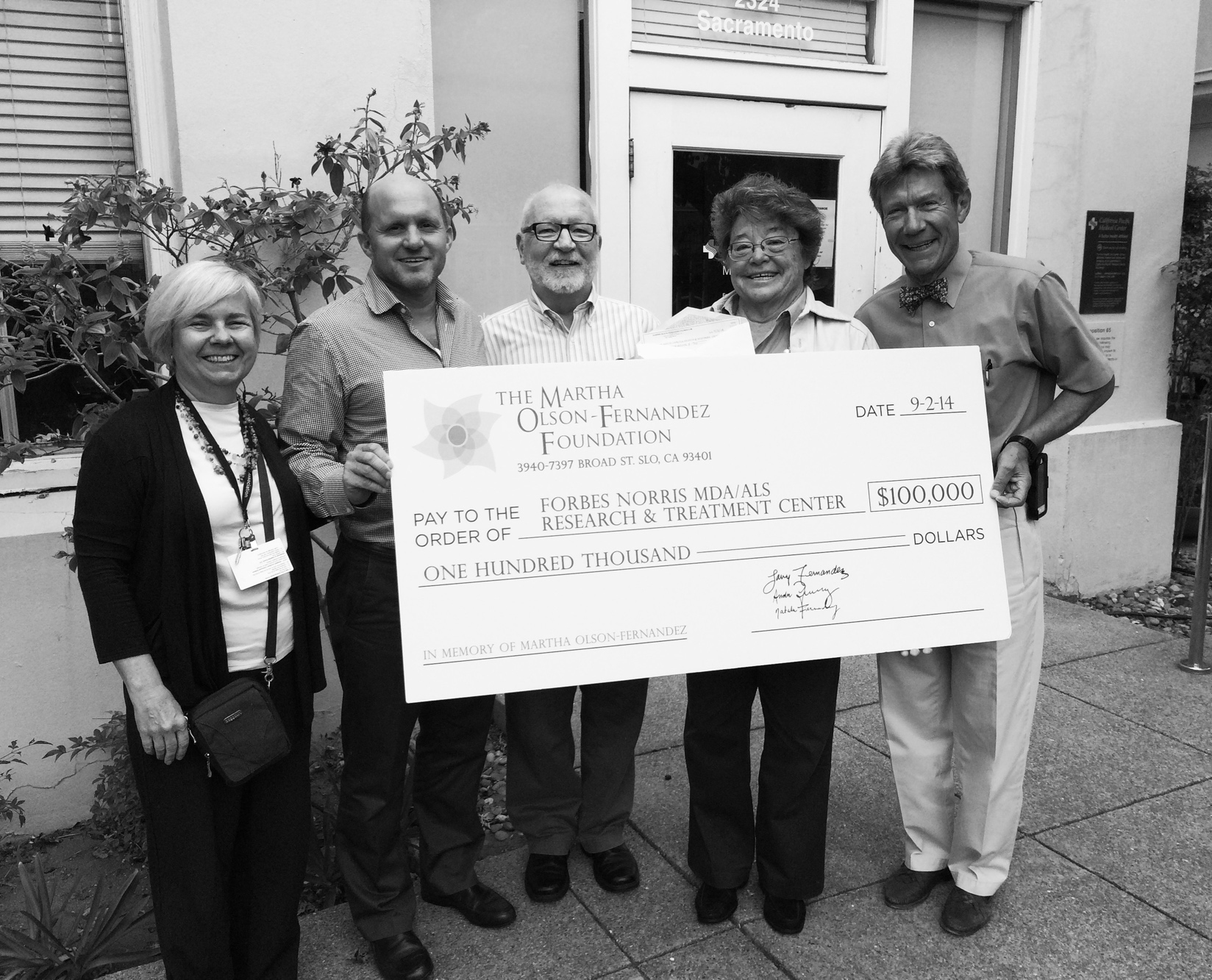 (Pictured above from left to right: Dallas Forshew, Dr. Katz, Bob Osborn, Mrs. Dee Norris Dr. Miller)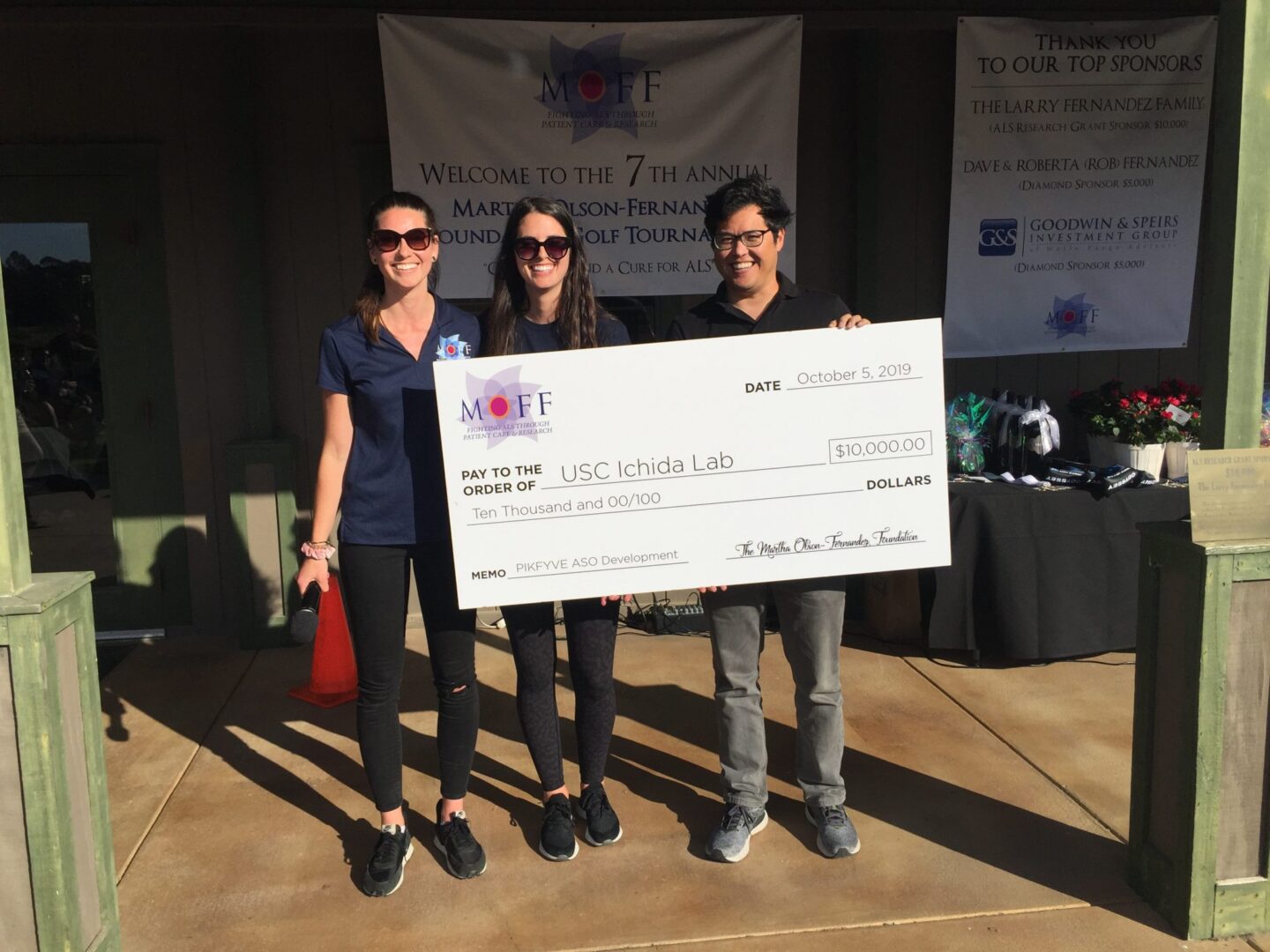 $10,000 ALS RESEARCH GRANT SPONSORSHIP OPPORTUNITY
---
What is the ALS Research Grant Sponsorship?
The MOFF team recognizes the importance of communicating where donor dollars are being applied within the ALS community. The $10,000.00 ALS Research Grant Sponsorship is a unique opportunity for a major donor to meet the researchers and, if possible, tour the lab of the ALS research project their money is funding. The key components of this sponsorship opportunity are an ALS research project and the donor. Please check out MOFF's new request for proposals (RFP) section (COMING SOON) to learn about our ALS research project selection process. 
| | | | |
| --- | --- | --- | --- |
| Year | Lab Details | ALS Research Project | ALS Research Grant Sponsor |
| 2019 | USC Ichida Lab | PIKFYVE kinase inhibitor antisense oligonucleotide ALS therapy | Larry Fernandez Family |
| 2020 | Dr. Bedlack's ALS Lab at Duke University | Study of ALS Reversals Protocol #3-The Microbiome | Larry and Cheri Fernandez |
Researcher Commentary
---
 Dr. Justin Ichida at the USC Lab for Stem Cell Research (2019):
"Over the past 10 years, researchers have learned that ALS has many different genetic causes. Therefore, one reason that therapeutic development for ALS has been difficult is because many therapeutics may work well for a small number of patients, but not for most patients. It has been difficult to identify therapeutics that work for most patients because the genetic causes for most cases are not known. To enable the discovery of therapeutics that can slow or reverse neurodegeneration in most ALS patients, we developed a new technology that allows the production of motor nerve cells from blood. In this approach, the genetics of each ALS patient is maintained in the motor nerve cells derived from him/her. Using these cells in a dish, we tested all approved FDA drugs and thousands of other drug-like chemicals to find those that show the greatest ability to prevent the degeneration of motor nerve cells from a diverse collection of ALS patients. We identified rare drug-like chemicals that showed much better efficacy than riluzole or Radicava, and slow degeneration of most patients' motor nerve cells. We are currently developing one of the drug-like chemicals for clinical testing, and any donations from the Martha Olson-Fernandez Foundations will help to accelerate these efforts."
Collaborative Research Efforts With ALS TDI
---
The Martha Olson-Fernandez Foundation donates money each year to fund specific research efforts at the ALS Therapy Development Institute (ALS TDI) in Cambridge, Massachusetts.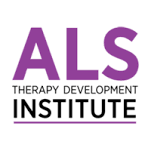 ALS TDI is driven by a single mission — to discover and develop treatments for ALS. It is the world's first and largest nonprofit biotech focused 100 percent on ALS research. Led by people with ALS and drug development experts, it is funded by a global network of supporters unified to ending ALS.
2020$10,000Profilin 1 mouse model development
| Year | Amount | Purpose |
| --- | --- | --- |
| 2016 | $20,000 | C9orF72 research |
| 2017 | $25,000 | AT-1501 development |
| 2018 | $25,000 | Biomarker database collection (CSF and tissue sample library) |
| 2019 | $25,000 | ALS animal model development |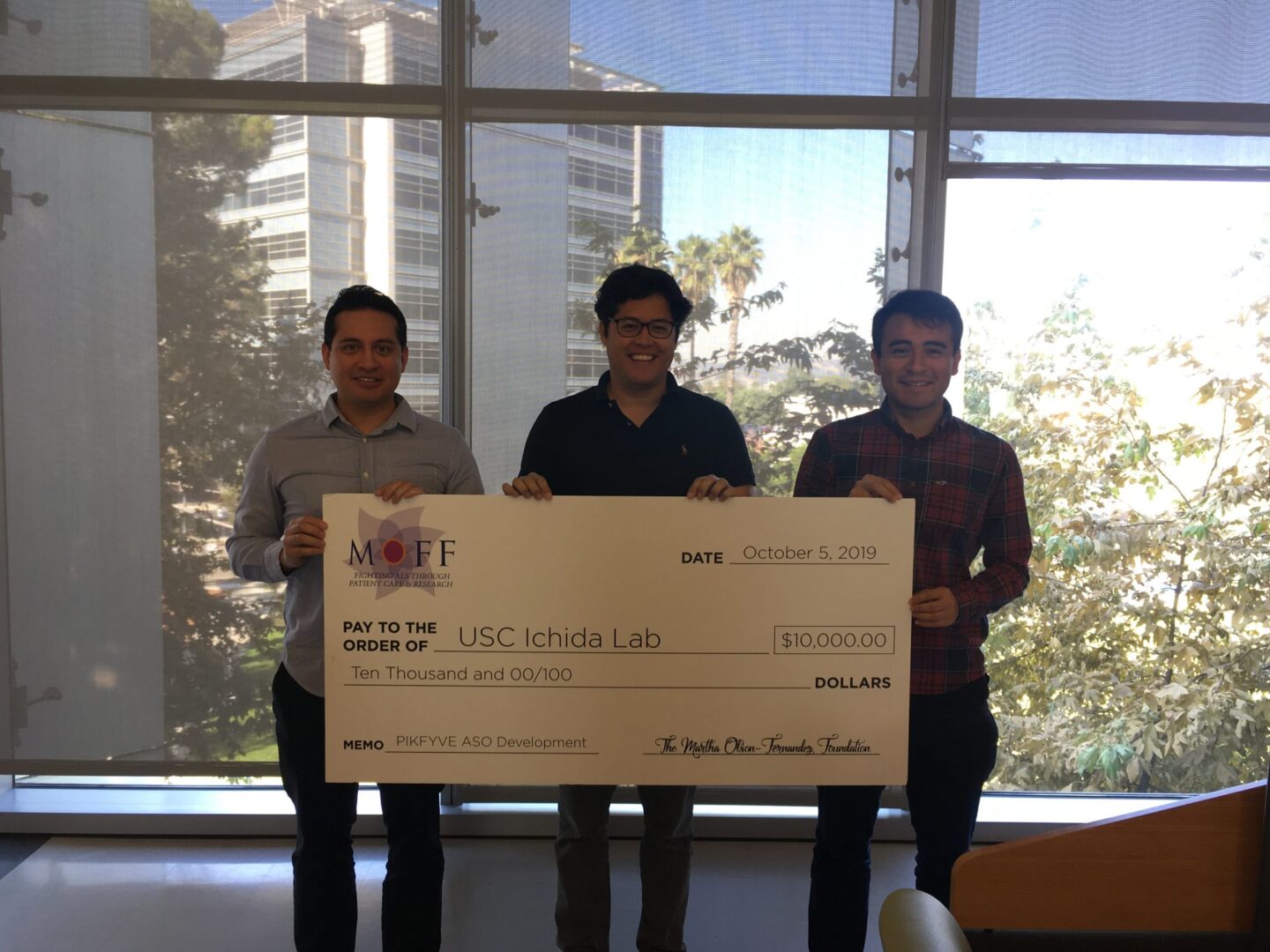 (From left to right) Scientists Gabriel, Dr. Justin Ichida, and Manuel posing with the MOFF check in their stem cell lab at USC.