Thank you to all the participants of the 2021 MOFF Hike x Brunch! This year, we had hikers tuning in on their Facebook and Instagram accounts from San Luis Obispo (SLO), Danville, Marin, San Francisco, the OC, Lafayette, Cayucos, Morgan Hill, Irvine Hills, Santa Monica, Atascadero, Washington, and New York City. The winners of the instagram giveaway were: Caroline Chalmers and Rachel Dettmer! They won MOFF swag and a gift bag from Bronze Sun Spa in SLO.
We are incredibly grateful to the silent auction item donors and silent auction participants. The virtual silent auction took place on the MOFF Hike x Brunch event site and was a great success!
It was wonderful to see all the hikers who stopped by our MOFF table at the Patricia Street entrance of Felsman Loop in SLO. We had roses in place for hikers to take up to Martha's memorial bench on the loop.
The Splash Cafe brunch boxes were a hit! Thank you to all the hikers who preordered brunch boxes and picked them up after their hike. $4 from each brunch box purchase went to MOFF.
Thank you to Cafe Andreini for giving away free coffee to raise awareness of ALS in our Central Coast community!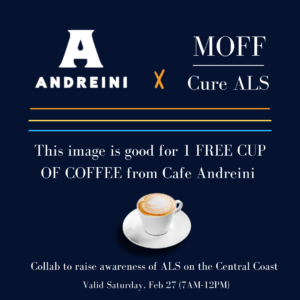 This event happens annually to raise awareness of ALS in our community and to raise money to fund ALS patient care and research. Martha was an avid hiker- we encourage everyone to go on an adventure and hike for all those with ALS who cannot hike anymore.