MOFF attended the ALS/MND International Alliance Scientific Advisory Council Meeting on June 17th (at 4 AM PST). It was worth it. The event was hosted by The ALS Association and featured neurologists from 10 different countries.
Who attended this International Advisory Council Meeting?
Dr. Jeanine Heckmann (South Africa)
Dr. David Taylor (Canada) – facilitator
Dr. Kuldip Dave (USA)
Dr. Nicolas Cole (UK)
Dr. Caroline Ingre (Sweden)
Dr. Gethin Thomas (Australia)
Dr. Piera Pasenelli (USA)
Absent: Dr. Qing Liu (China), Dr. Adriano Chio (Italy) and Dr. Luis Barbeito (Uruguay)
What did they discuss?
The main discussion topic was prompted by the facilitator, David Taylor. He began the meeting by encouraging participants to share what they are most excited about in the ALS/MND field. Responses varied, but there was a general consensus around 3 topics:
1. Platform trial design
The Tricals Platform Trial (UK) and the Healey Platform Trial (USA) design are both incredible tools to test new therapies for ALS. They are not only cost-effective, but time-efficient and patient-centric as well. The platform concept was originally implemented in oncology, and in 2019 was adapted to the ALS field. Historically, trials have required a 50/50 placebo control. In cancer and ALS, the fatality rate of these diseases make it almost unethical to put a patient in a placebo control group. The platform trial takes this into consideration; only 1/3 of patients will receive a placebo and for a shorter duration (6 months). The platform trial design allows for more therapy options to be tested at once: 5 for the Healey Trial and 2 for the Tricals Trial. The treatments being tested in the Tricals Trial are Lithium Carbonate and Triumeq. Read the MOFF article on the Healey Trial to learn what treatments are being used in the U.S. trial.
Dr. Pasenelli and Dr. Cole had a productive dialogue about comparing trial outcome measures. This discussion occurred after Dr. Cole claimed the Tricals Trial had more outcome measures than the Healey Trial. While this is likely because the FDA bases it's outcome measures on the ALSFRS-R score and the EMA bases their outcome measure reporting on survival, a more thorough comparison is warranted.
2. Gene therapies
Gene therapies are the future! It is not an unrealistic claim to say that specific genetic forms of ALS will be curable within the next 2-5 years. Researchers are targeting ALS cases with the SOD1, FUS, and C9orF72 genetic mutations. Two examples of such therapies are Tofersen (Biogen) and AVSX-301 (Avexis/Novartis). Phase 3 trials of Tofersen are currently being conducted in the U.S. and multiple other countries including Japan, Canada, and Italy. The aims of these gene therapies are to replace genes, silence genes, or deliver proteins that boost motor neuron function. Currently, the two most promising ways to deliver these therapeutic benefits is via Adeno-associated viruses (AAVs) or Antisense Oligonucleotide (ASOs).
These gene therapies are the first to modify ALS disease progression. This is amazing given the fact the three current FDA approved medications for ALS simply claim to extend patients' lives by 3 or 6 months. What is even more incredible about the development of gene therapies for ALS, specifically, Tofersen, is that Dr. Alan Smith wrote about this therapy in his book: Handbook of Amyotrophic Lateral Sclerosis. It was published in 1992. Patients are finally gaining access to treatments that have been conceptualized almost 30 years ago.
Keep in mind that these genetic therapies will only be effective for 10% of the ALS population. That being said, C9orf72 has implications in the sporadic form of ALS as well so whatever pathogenetic insights they extract from these ongoing clinical trials, will inform future studies done for sporadic ALS.
3. Biomarker usage
We can finally objectively measure if drugs are slowing ALS disease progression! "Biomarker" has been a buzz word in the ALS community for years. A biomarker, loosely defined, is a biological sample that can be used to screen, diagnose or monitor disease progression. The majority of  excitement during the meeting was centered on the use of pharmacodynamic biomarkers, in upcoming clinical trials. Below is an image of the many potential measurements of ALS disease progression that newer trials, specifically the Healey Platform Trial, will incorporate.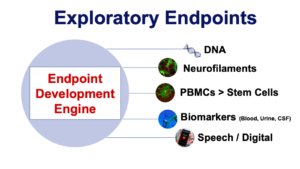 (Image adapted from a 2019 Mass General presentation on the Healey Platform Trial. The presentation was led by Dr. Sabrina Paganoni and Dr. Ben Saville)
For the sake of time and space, this post will not going into the details of each measurement. More information can be found in this Frontiers article. The second takeaway from council's the biomarker discussion was one of hope. Dr. Pasenelli described an important perspective shift that has occurred in the ALS research community. To paraphrase, she recognized that 7-10 years ago, researchers joined the ALS therapeutic area for the general, rather unexciting discipline of researching. Now, each ALS research investigations could lead to a potential therapeutic target or a biomarker discovery. The hope of actually discovering something is alive and is encouraging more individuals to join the field. This was incredibly encouraging to hear.
Sidenote:
South Africa:  South Africa gets their own blurb because during the meeting it sounded like Dr. Jeannine Heckmann was on a literal ALS battlefront. She began the meeting by stating there are only 3 interdisciplinary clinics in South Africa and the some of the medical professionals attend the clinics once a month. Dr. Heckmann went on to share a very moving story about recent ALS diagnosis she had to give while the patient was already in need of a ventilator and there were limited ventilator resources. Their country has limited resources to Rilutek, which is 10-15 years behind USA standards. In conclusion, Dr. Heckmann is a saint and needs back up. Also, the South African ALS patient community needs support ASAP.
Thank you to all the ALS/MND Internationals Alliance Scientific Council Members! We greatly appreciate all of your contributions to the ALS field.