Thank you to everyone who joined us for the 6th Annual MOFF Hike x Brunch! Together we raised $6,716.80 to put towards ALS patient care and research.
The hike up Felsman Loop Trail was a wonderful reminder of Martha's ability to motivate and educate each of us on the importance of exercise and healthy living. The sign at the bottom of the trail reminded us who we were hiking for: all those who cannot. The sign has the names of those our community has lost to ALS and also those that are currently living with the disease.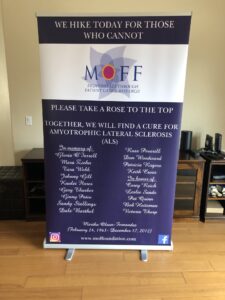 When we reached Martha's memorial bench, Andrea and Natalie read a passage from Ryan Farnsworth's book: Seeds of Light Sown. The poem is called: Old Wisdom Gained Young: 
"I have never heard the elderly lament, 
In wishing that they would have lived less,
Having packed too much life into their years.
I imagine instead that as their tired suns sink,
Back towards the horizon of their lives, 
Each moment becomes more precious. 
If asked for advice such an old one might say: 
Don't put your dreams on a shelf labeled 'someday,'
A day in the future when there will be more time, 
For time waits for no one. 
Live the life you want and do not wait or hesitate, 
While you are healthy and have the physical function, 
To spend your time in all of the ways you prefer. 
And I think to myself: 
We should not need to grow old, 
To gain such wisdom."
The brunch portion of the event was educational and inspired hope. Jennifer McErlain from the ALS Therapy Development Institute (ALS TDI) showed a video that walked us through a virtual tour of the ALSTDI lab. She discussed how MOFF donors have contributed over $95,000.00 to different ALS research projects at ALS TDI over the past 5 years. She also mentioned Project Euphonia which is ALSTDI's collaboration with Google that was recently featured on the Today Show. At the end of Jen's talk, MOFF presented Jen with a $10,000.00 check to put towards their upcoming research on profilin1 ALS mouse models.
Thank you ALSTDI for all the incredible research you conduct and thank you to our supportive donors for allowing MOFF to fund research to find a cure for ALS.
If you have any photos that you would like to share from the event, please email them to giving@moffoundation.com. Thank you!