Publication Update: It is with great sadness that we share Ken Brenner passed away on February 14, 2021. He was surrounded by his loving family and in the comfort of his home. The article written below was authored before his passing. 
Ken Brenner is an incredibly talented artist living with amyotrophic lateral sclerosis (ALS). His talents hardly stop at art. An athlete, successful Silicon Valley banker, husband, and father of 3 children and grandfather of 2, Ken has lived a full life thus far, and has much more to live.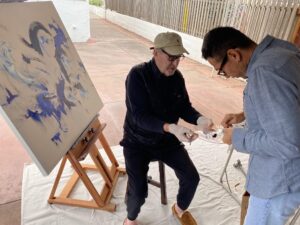 Ken was diagnosed with ALS in late 2020. The diagnosis and his disease progression sent shock waves through the Brenner family. It forced Ken to retire from a long banking career which he was not ready to be done with. His wife also retired, and their children moved back to CA from New York City to be with their father. Needless to say, all of their lives were uprooted and their trajectories changed. That's just what ALS does.
Ken's retirement plan was to focus on his art and to show the world his artistry. When ALS happened, he still found a way to make painting work.  "Art gives me something to focus on," Brenner said. "I lose myself; I don't think about my issues. So it's sort of a mental break." As time elapsed, he had trouble holding a brush, but continued to paint with his fingers. His paintings showcase his creativity, personal exploration, disease progression, and his will to face the joy and the struggle of each new day.
Ken's oil paintings are well recognized and sought after by well-established private and corporate art collectors. In 2020, his path crossed with a younger latino artist, Octavio Molina, who had faced his own set of challenges growing up in Mexico before immigrating to the US. The two formed an incredibly special bond and have helped each other through their collaborating on paintings in 2020-2021. "He always tells me he's good at framing my chaos," Brenner said of Molina in a joint interview with ALS News Today.  When it comes to ALS, there is definitely a lot of chaos.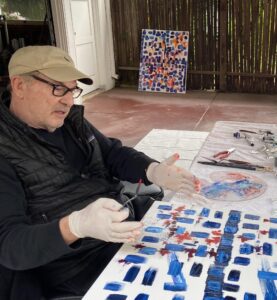 The Brenner Family and The Fernandez Family were serendipitously connected through their mutual friend, Alexis Schwartz. Together, they are fundraising for the Expanded Access Platform (EAP) Program at The Sean Healey Center for ALS. Their fundraising goal is $30,000.00. This is the cost to put 3 individuals living with ALS through the EAP program for 1 year.
Donate to the EAP at MGH today via the link below. Learn more about the expanded access protocol programs and why they are so important to ALS patients here.
01-Nov-21 Update: We reached our goal! $30,000 will be donated to the MGH Expanded Access Protocol Program in Ken's name in February of next year (2022).
 BUY KEN BRENNER ART:
View Ken's art via the links below and contact Jordan Brenner at jordan@100collective.com.
Ken Brenner's article in ALS News Today ALS News Today